Midnight Sun, the debut album from Big Fog, showcases a unique Celtic Fusion sound that blends traditional Celtic music with country, blues, and rock influences. The album features seven original compositions along with the band's interpretation of traditional Celtic and folk songs, and was produced under the talented guidance of John-Marc Hamilton of Crave Music Studios.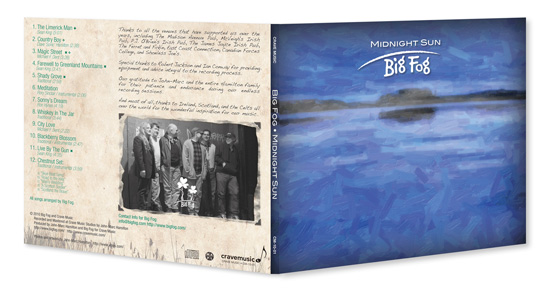 Use the PayPal link below if you wish to have a physical CD delivered right to your door (right now: $10.00 + Shipping). The packaging for this CD uses 100% post-consumer recycled products, and it is very pretty.
Other purchasing options: iTunes Music Store, Amazon
Track List:
With Studio Performances By:
Michael O'Grady: accordion and tin whistle on "Magic Street", "Farewell to Greenland Mountains", "Shady Grove", and "Live By The Gun". Bert Clarke: stand-up bass on "Country Boy" and "Magic Street". Eric Shenkman: electric guitar solo on "The Limerick Man".