Every year, just before St. Patrick's Day, I brew up a batch of home-made Irish Cream, and celebrate with the band at rehearsals leading up to our regular gig at The Madison Pub on the big day. The recipe is tailored to my own tastes over a few years of adjusting, and I now have it down to a science for making a batch of approximately 10 litres of the sweet mixture, providing samples to friends, and for enjoyment with my band mates.
Here now, for the first time, is the proven recipe, enjoyed by all Big Fog fans!
Big Fog Irish Cream: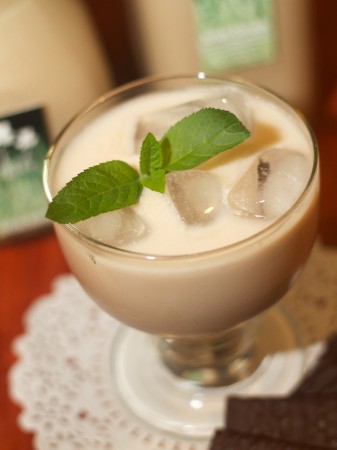 1 ½ cups Jamesons Irish whiskey
1 ⅔ cups heavy cream / whipping cream
1 can sweetened condensed milk
2 teaspoons instant coffee granules
3 tablespoons Hershey's chocolate syrup
1 egg
1 teaspoon vanilla extract
1 teaspoon almond extract
½ teaspoon coconut extract
¼ cup pure maple syrup
Makes 1¼ litres.
Prepare the coffee granules by adding just enough boiling water to dissolve into a very strong coffee liquid.
Add all ingredients except the cream into a blender (unless you have a blender larger enough) and mix well (at least 30 seconds on high speed).
Add mixture to cream in an appropriate sized pot and put on low-medium heat.
Stir everything together, and continue to stir occasionally to avoid burning and/or clumping.
Heat to approximately 60˚C, or until after not stirring for two minutes the surface starts to turn a slightly darker brown than the rest of the mixture.
Stir well, and, using a funnel, pour into a large enough bottle, or break into two bottles.
Leave in fridge for 2-3 days to settle before filtering using a fine sieve to remove any clumps from egg and or coffee grains.
Keep refrigerated, pour into rocks glasses, over ice if desired, or add to coffee or hot chocolate.
Please enjoy responsibly! And listen to some great Irish music while you drink… Maybe even Big Fog!
John-Marc Hamilton
Producer: Big Fog / Crave Music