A Toronto-based Celtic/Fusion live band playing to packed houses for the past few years,
Big Fog has finally released their debut CD, "Midnight Sun"… Now just $10!
Big Fog recently placed in the TOP 3% of all bands
in regular rotation on Jango.com internet radio!

Our self-released first CD, "Midnight Sun", consists of 12 tracks, including seven compelling original tunes musically inspired by Celtic lands and tunes. Of the originals, the most dynamic of the tracks is the first cut, "The Limerick Man", which is a biographical story of a man's journey to a new life and home from his roots in Ireland, and set to a modern cross between Celtic and western sounds reminiscent of a Quentin Tarantino film score.
Other notable tracks include a beautiful, no-nonsense cover of Ron Hynes' "Sonny's Dream", rousing versions of classic bar songs like "Whiskey In The Jar" and "Shady Grove", an original, somber, anti-war song in "Live By The Gun", and an original solo bagpipe tune called "Meditation".
Big Fog consists of a wide array of talents. Our inspiration and front-man, Sean King, hails from Limerick, Ireland, and immigrated to Canada to work the mines in Greenland and Northern Ontario before finally moving to Toronto. Also included in the musical roster is veteran Toronto rocker Dave 'Sonic' Hamilton playing bass and electric guitar on the album and Michael F. Dent adding his unique brand of folk-inspired singing and acoustic picking. Brian Morgan and Stephanie Miletic bring their own dynamic flare on the fiddle tracks, Rory Sinclair blows out classic Celtic bagpipe reels, and Terry Campbell is a solid percussionist to back them all up.
Adding guest players François Oulette, Voodoo Walters, and Jim Dolmage, as well as including Eric Shenkman, Bert Clarke and Michael O'Grady on the CD itself, has served to boost the band's presence and sound.
Big Fog can now be heard on Jango.com internet radio…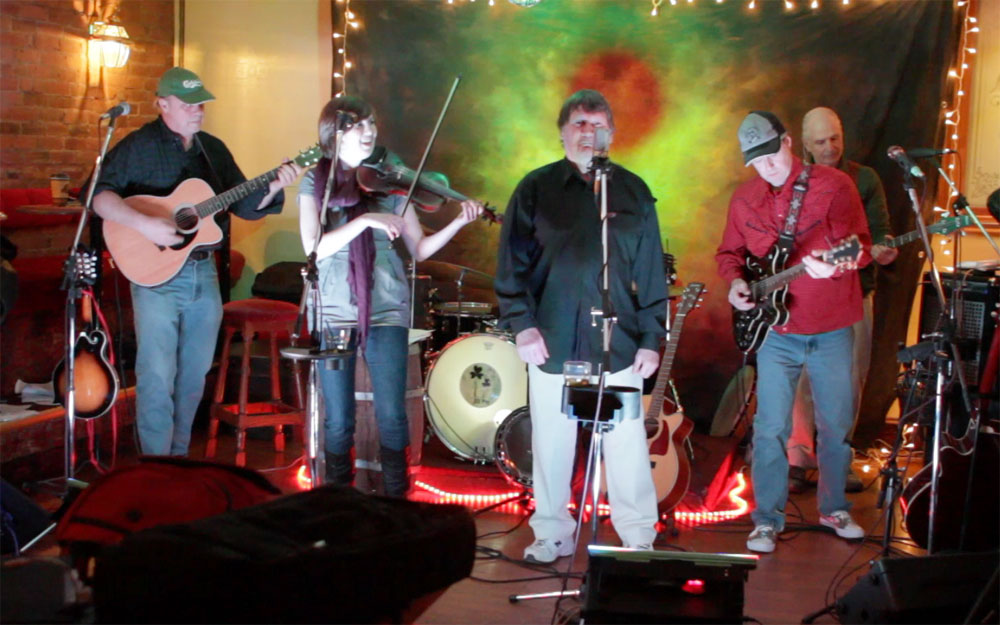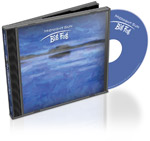 We've released our first CD, entitled "Midnight Sun". Click here to check it out and to find links to buy and download or order it to be delivered to your door!
Quick Reviews:
"Interesting stuff here. I like the direction you are going with your music.
I do like the fiddle stuff and the earthy sound."
"I am fond of Celtic music and enjoyed this. Nice pull of new sound over an
older style, lead guitar is outstanding. Great fiddle! Would make good beer
drinking sing-a-long tunes. Nice work and good luck."
"Good production, music well produced. Great melodies and moods. Lyrics fit
fine with the music. Overall a decent production. Keep up the good work."
"I love this track, it sounds so traditional and spicy! It reminds me something
of From Dusk till Dawn, the movie of Robert Rodriguez."
Live Songs: (partial list of cover songs performed over the past few years)
Barrett's Privateers, Battle of New Orleans, Belfast Mill, Big Bad John, Black Velvet Band, Blackberry Blossom, Blue Bayou, Brown Eyed Girl, Browns Ferry Blues, Chestnut Set, Creole Belle, Daisy a Day, Danny Boy, Devil is Dead, Devil's Dream, Dirty Old Town, Donald Where's Yer Trews, Downpressor Man, Drunken Sailor, Eriskay Love Lilt, Evangeline, Fairy Tale of New York, Farewell to Nova Scotia, Fiddler's Green, Fields of Athenry, Finnegan's Wake, Flower of Scotland, Four Green Fields, Fox on the Run, Friend of the Devil, Geronimo's Cadillac, Girl I Left Behind Me, Glendale Train, Going to the Races, Good Rockin' Tonight, Home For A Rest, Hurricane, I Shall be Released, I Tell Me Ma, I'm Gonna Be (500 Miles), Into The Mystic, Irish Rover, Irish Washerwoman/Swallowtail, Islands in the Sun, It'll All Work Out, Jambalaya, Johnny We Hardly Knew Ye, Knocking on Heaven's Door, Leaving Of Liverpool, Little Buffalo, Long Black Veil, Losin You Might Be, Lost on the Bayou, Louis Collins, Lukey's Boat, Mango Season, Mermaid, Midnight Special, Moondance, More Than She Knows, Mull of Kintyre, My Bonnie Lies Over the Ocean, My Home Set, Orange and Green, Paddy's Leather Breeches, Parting Glass, Pirates of Paradise Bay, Red Haired Boy, Ring of Fire, Rocky Top, Saltwater Joys, San Fransico Bay Blues, Shady Grove, Simple Song of Freedom, Sloop John B., Sonny's Dream, St Anne's Reel, Star of the County Down, Step it Up and Go, Stop Breaking Down Blues, Sunday Bloody Sunday, Sweet Virginia, Tell Me Ma, The Band Played Waltzing Matilda, Tide's Rollin' In, Unicorn, Wasn't That a Party, Wee Deoch and Doris, Whisky Before Breakfast, Whisky in a Jar, Wild Mountain Thyme, Wild Rover, Working Man, Ye Canna Shove yer Ganny, and more!
Bands we draw inspiration from:
The Pogues, The Dubliners, Spirit of the West, The Decemberists, Bob Dylan, Gillian Welch, Del Amitri, Van Morrison, The Chieftains, Johnny Cash, Mark Knopfler, Steve Earle, The Flying Burrito Brothers, THe Everly Brothers, The Jayhawks, The Band, The Rolling Stones, Tom Petty, and many more!